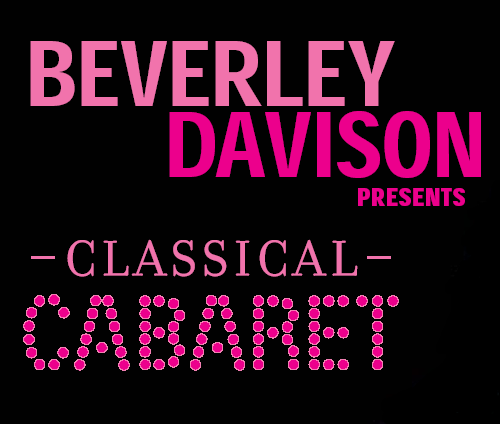 Great news for "Classical Cabaret" - Arts Council England have supported a whole new look for this season of Classical Cabaret. Beverley (never one to sit back and take it easy) has been working closely with a fantastic director, Jane Karen. The all-new show is already out and about with new arrangements, lighting and scripts, all thanks to a substantial organisational and artistic development grant from the Arts Council and some wonderful financial help from private benefactors.
Have no fear, Beverley's wonderful playing remains central to the whole show and her much sought-after "Classical Cabaret" duo continues to visit those more intimate venues and thrill audiences world-wide!
If you are a Classic FM listener you can still hear the latest "Classical Cabaret" CD featured on various programmes. We continue to receive a huge response from listeners, many of whom have tracked down Beverley here at her website and send wonderfully supportive messages. This enthusiasm surprises some of the Classical Cabaret live performance venues, as they find a whole new audience demanding tickets!
If you would like to receive a copy of the Classical Cabaret with Hot Strings CD, please contact Classical Cabaret on 01491 638903
| | | |
| --- | --- | --- |
| | | |
| | | |
| | | |
| | | |
| | | |
| | | |
| | | |
| | | |
| | | |
| | | |
| | | |
| | | |
| | | |
| | | |
| | | |
| | | |
| | | |
| | | |
| | | |
| | | |
| | | |
| | | |
| | | |
| | | |
| | | |
| | | |
| | | |
| | | |
| | | |
| | | |
| | | |
| | | |
| | | |
| | | |
| | | |
| | | |
| | | |
| | | |
| | | |
| | | |
| | | |
| | | |
| | | |
| | | |
| Chile - Argentina | 11th - 18th January 2007 | CC Cruise |
| | | |
| | | |
| | | |
| Papeete - Sydney | 4th - 18th February 2007 | CC Cruise |
| Yangon - Singapore | 18th - 23rd February 2007 | CC Cruise |
| | | |
| | | |
| | | |
| Marthall & Ollerton VH, nr Macclesfield | 8th March 2007 7.30pm | CC Duo |
| Kettleshulme VH 8pm | 9th March 2007 | CC Duo |
| The Goodwill Hall, Faddiley | 10th March 2007 7.30pm | CC Duo |
| Whitegate Recreation Room | 11th March 2007 7.30pm | CC Duo |
| | | |
| | | |
| | | |
| | | |
| | | |
| | | |
| Lynton Church, North Devon 8pm | 13th April 2007 | CC Duo |
| Woolacombe Village Hall, North Devon 7.30pm | 14th April 2007 | CC Duo |
| Hartland Parish Church, North Devon 7.30pm | 15th April 2007 | CC Duo |
| Valencia - Santa Cruz | 17th - 22nd April 2007 | CC Cruise |
| Athens - Kalamata | 5th May - 11th May 2007 | CC Cruise |
| Valletta - Rhodes | 25th May - 3rd June 2007 | CC Cruise |
| | | |
| Amsterdam - Copenhagen | 12th - 18th June 2007 | CC Cruise |
| | | |
| Rome - Venice | 6th - 13th July 2007 | CC Cruise |
| | | |
| Copenhagen - Trondheim | 23rd - 29th July 2007 | CC Cruise |
| | | |
| Reykyavik - London | 14th - 21st August 2007 | CC Cruise |
| | | |
| Lisbon - Barcelona | 7th - 14th September | CC Cruise |
| | | |
| | | |
| | | |
| | | |
| Richards Bay - Capetown | 30th December 2007- 5th January 2008 | CC Cruise |
| | | |
| | | |
| | | |
| | | |
| | | |
| | | |
| | | |
| | | |
| | | |
| | | |
| | | |
| | | |
| | | |
| | | |
| | | |
| | | |
| | | |
| | | |
| | | |
| | | |
| | | |
| | | |
| | | |
| | | |
| | | |
| | | |
| | | |
| | | |
| | | |
| | | |
| | | |
| | | |
| | | |
| | | |
| | | |
| | | |
| | | |
| | | |
| | | |
| | | |
| | | |
| | | |
| | | |
| | | |
| | | |
| | | |
| | | |
| | | |
| | | |
| | | |
| | | |
| | | |
| | | |
| | | |
| | | |
| | | |
| | | |
| | | |
| | | |
| | | |
| | | |
| | | |
| | | |
| | | |
| | | |
| | | |
| | | |
| | | |
| | | |
| | | |
| | | |
| | | |
| | | |
| | | |
| | | |
| | | |
| | | |
| | | |
| | | |
| | | |
| | | |
| | | |
| | | |
| | | |
| | | |
| | | |
| | | |
| | | |
| | | |
| | | |
| | | |
| | | |
| | | |
| | | |
| | | |
| | | |
| | | |
| | | |
| | | |
| | | |
| | | |
| | | |
| | | |
| | | |
| | | |
| | | |
| | | |
| | | |
| | | |
| | | |
| | | |
| | | |
| | | |
| | | |
| | | |
| | | |
| | | |